2016 Area Development Magazine Gold & Silver Shovel Awards
July 8, 2016
Geraldine Gambale, Editor, Area Development Magazine
Mark Crawford, Contributing Editor
South Carolina - 3+ to 5 Million Population Category
Employment grew 3.3 percent in South Carolina in 2015, thanks to increased output from key industry sectors, especially aviation and automotive. Both Volvo Car Group and Mercedes-Benz Vans plan to build $500 million manufacturing operations in the Charleston area that combined will employ nearly 3,800 workers.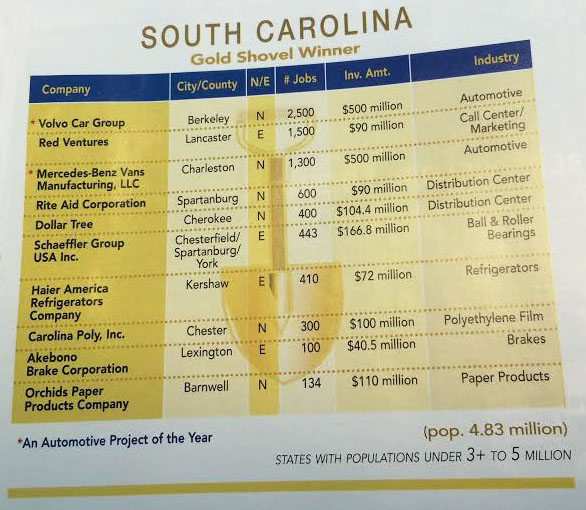 This also means that many of the more than 200 automotive suppliers in the state are in growth mode. For example, Schaeffler Group USA is investing $166.8 million to expand its ball and roller bearings manufacturing plants in Chesterfield, Spartanburg, and York counties, eventually hiring 443 workers. Akebono Brake Corporation is expanding its existing Lexington County operations, investing more than $40 million in the project, which will create 100 new jobs in West Columbia, Lexington County.
Thanks to its interstates, rail systems, and the Port of Charleston, the second-largest container port on the U.S. Atlantic Coast, South Carolina is a preferred location for distribution and logistics operations. Target, Walgreens, Dollar General, Wal-Mart, and QVC all have distribution systems in South Carolina. Recent announcements include Rite Aid Corporation in Spartanburg ($90 million, 600 workers) and Dollar Tree's plans to build a $104.4 million distribution facility near Spartanburg that will hire 400 workers over the next five years.
"Dollar Tree has been extremely impressed with the South Carolina transportation infrastructure that will support our new distribution center," states Dollar Tree Chief Logistics Officer Stephen W. White. "The current Interstate 85 widening project and the efficiencies associated with the Greer Inland Port were instrumental in our site selection proecess."