Central South Carolina Megasite Receives CSX Select Site Designation
January 5, 2023
Bryan Tucker, Corporate Communications
855-955-6397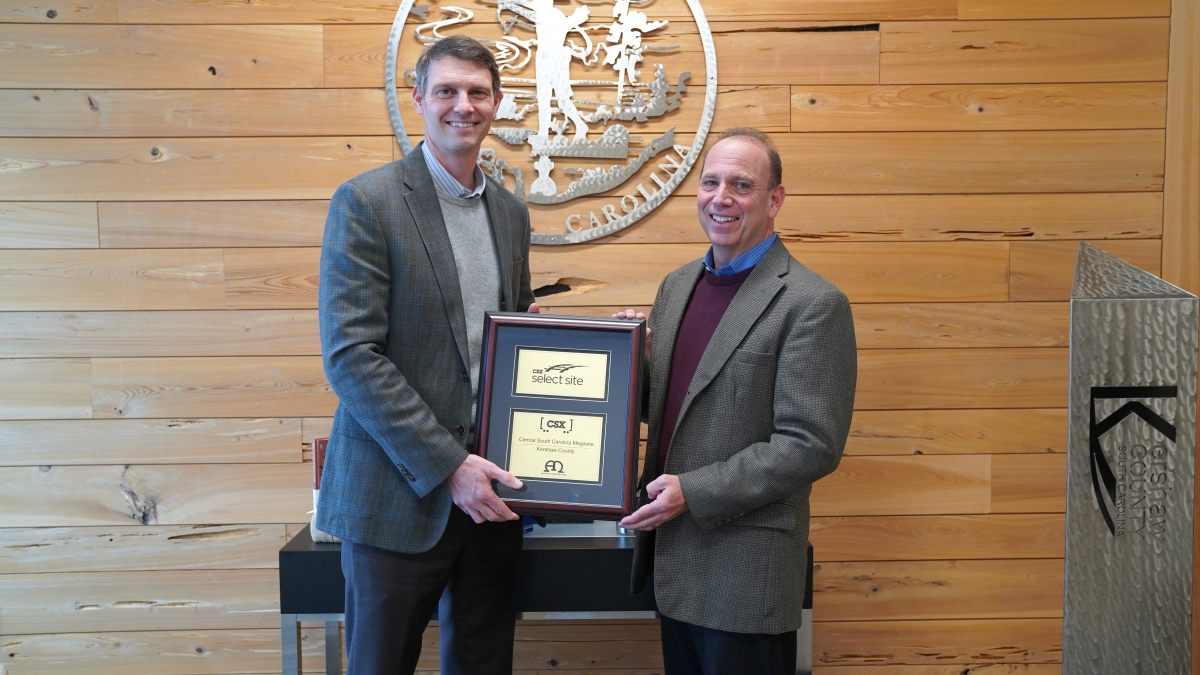 Central South Carolina Megasite Receives CSX Select Site Designation
JACKSONVILLE, Fla. – January 4, 2023 – CSX (NASDAQ: CSX) today announced that the Central South Carolina Megasite in Lugoff, South Carolina, has been designated a CSX Select Site.
Select Sites are development-ready properties along the CSX network where standard land use considerations and comprehensive due diligence items have been previously addressed. These properties are able to meet the needs of a wide variety of manufacturers, significantly reducing the time required to construct facilities and ultimately bring products to market.
"South Carolina has a strong track record of attracting industrial projects with significant investment," said Tom Tisa, head of business development at CSX. "The Central South Carolina Megasite is an outstanding location for another high-impact investment that capitalizes on the environmental advantages of rail and CSX's commitment to helping customers lower their carbon footprint."
CSX introduced the Select Site program in 2012 to better serve new and existing customers on its network and those of its short line partners. CSX works with Austin Consulting, a nationally known site-selection consulting firm, to screen candidate sites and assist communities with the application and certification process.
"It's rare to find a property this large that is adjacent to both a railroad mainline and an interstate highway at an existing interchange, with all utilities on site," said Jonathan Gemmen, senior director, Austin Consulting.
Access to the 1,426-acre site is located half mile north of Interstate 20, less than a 30-minute drive northeast from downtown Columbia.
"As Columbia and the Central SC Region continue to grow at a pace faster than the nation, this site receives more and more interest from prospects," said Nelson Lindsay, president and chief executive officer of the Central SC Alliance.
Kershaw County identified the megasite property over 15 years ago as an opportunity to attract a large industrial user that could generate new jobs and investment with the potential to transform communities. Subsequently, Kershaw County performed all the necessary due diligence studies, such as environmental, archaeological, endangered species, wetland delineation and multiple geotechnical studies. Large portions of the megasite have been cleared and a 500,000-gallon water tank is under construction on the north end of the site.
"Kershaw County has the finest and most-ready megasite in the state", said Julian Burns, chairman of Kershaw County Council. "Taking part in the CSX Select Site program demonstrates Kershaw's commitment to economic development."
The Central South Carolina Megasite is now the third site in South Carolina with the CSX Select Site designation. This property is one of 26 properties across CSX's service territory to meet the rigorous site- selection criteria.
To learn more about CSX Select Sites, visit www.csxselectsites.com
About CSX
CSX, based in Jacksonville, Florida, is a premier transportation company. It provides rail, intermodal and rail-to-truck transload services and solutions to customers across a broad array of markets, including energy, industrial, construction, agricultural and consumer products. For nearly 200 years, CSX has played a critical role in the nation's economic expansion and industrial development. Its network connects every major metropolitan area in the eastern United States, where nearly two-thirds of the nation's population resides. It also links more than 240 short-line railroads and more than 70 ocean, river and lake ports with major population centers and farming towns alike. More information about CSX Corporation and its subsidiaries is available at www.csx.com. Like us on Facebook (http://facebook.com/OfficialCSX) and follow us on Twitter (http://twitter.com/CSX).
Contact:
Bryan Tucker, Corporate Communications
855-955-6397
ADD ITEM TO REPORT
As you navigate our website, you can use the "Add Page to Report" button add any page or property to a custom report that you can print out or save.