2400 Main Street
Location Information
Location Information
2400 Main Street
Elgin, South Carolina 29045

Sale and Lease Information
Sale and Lease Information
Sales Price: LEASE RATE: $2.95 PSF NNN
Lease Rate Per Square Foot: Contact brokers for pricing $2.95 PSF NNN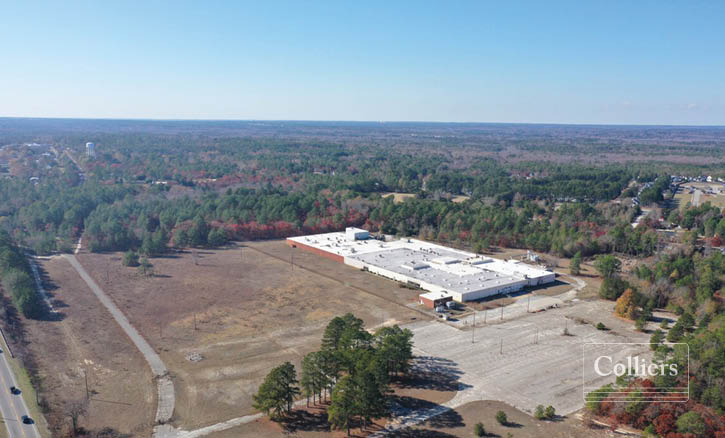 Location Information
2400 Main Street
Elgin, South Carolina 29045

Sale and Lease Information
Sales Price: LEASE RATE: $2.95 PSF NNN
Lease Rate Per Square Foot: Contact brokers for pricing $2.95 PSF NNN

Physical Characteristics
Total Square Feet:190,495 sq. ft. Zoning Classification:Industrial Year Built: 1958 Building Dimensions: Total ±190,495 SF Dock Doors: Loading: Dock-high 6 doors Drive-In Doors: Drive-in 2 doors Expandable truck court Parking Spaces: Parking lot: ±2.5-acre gravel lot

Utilities and Service
Electric Provider: DUKE PROGRESS ENERGY SERVICE COMPANY LLC Natural Gas Provider: DOMINION ENERGY Water Provider: LUGOFF ELGIN WATER AUTHORITY Wastewater Provider: KERSHAW COUNTY

Transportation Access
Distance to Interstate: ±3.5 miles from I-20, ±13.5 miles from I-77 and ±27 miles from I-26. Distance to Airport: 34.90 miles Distance to Port: 120.7 miles

Additional Information:
2400 Main Street consists of an approximately 190,495-square-foot
manufacturing facility on ±78.23 acres in Elgin, SC. The available
space is subdividable including several private offices and open
space for cubicles. The building is fenced and has a secured
expandable truck court and the site has potential for building
expansion or additional lay-down yard storage. Additionally, the
property is situated just ±3.5 miles from I-20, ±13.5 miles from I-77
and ±27 miles from I-26.
Address: 2400 Main Street
Location: Elgin, SC
Site: ±78.23 acres
Parking lot: ±2.5-acre gravel lot
Available area:
Warehouse/
manufacturing ±188,508 SF
Detached building ±1,987 SF
Total ±190,495 SF
Year built: 1958 (renovated in 1988)
Loading:
Dock-high 6 doors
Drive-in 2 doors
Expandable truck court
Clear height: 14'
Sprinklers: Wet
DOWNLOADS - MAPS & SITE REPORTS
ADD ITEM TO REPORT
As you navigate our website, you can use the "Add Page to Report" button add any page or property to a custom report that you can print out or save.